Get Well Flowers
Let BLOSSOM STREET FLORIST of Lauderhill, FL help you send get well wishes to your friend or loved one. Show them how much you care with a get well gift basket filled with a floral arrangement or customized get well gifts. A basket filled with snacks, bath products, unique jewelry and accessories, or a favorite stuffed animal is a great and easy way to cheer up a loved one. Top off your personalized gift with a fun balloon bouquet. Wanting something a little more traditional? There is no better or simpler way to remind someone that you're thinking of them than with get well flowers from BLOSSOM STREET FLORIST. Scroll down to browse and order online from our sample selection of get well flowers and plants or call to customize a gift for that special someone. Let BLOSSOM STREET FLORIST of Lauderhill, FL help you wish a loved one a "Get well soon".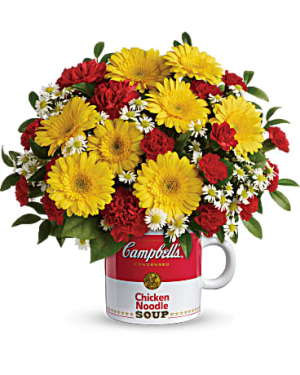 Campbell's® Healthy Wishes Bouquet by Teleflora
Send your most sincere healthy wishes for a speedy recovery! This beautiful bouquet of bright yellow gerbera daisies and red carnations is perfectly presented in a charming Campbell's Chicken Noodle Soup mug that will be enjoyed for years to come.
More Info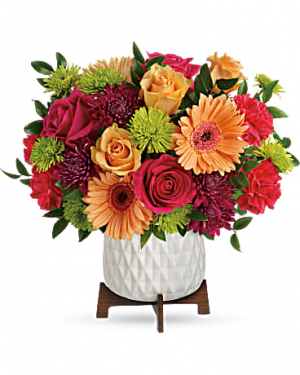 Teleflora's Mid Mod Brights Bouquet
Talk about a bright idea! This cheerful bouquet of pink roses and peach gerberas brings joy to any occasion--especially since the lucky recipient gets to keep the chic mid-century ceramic planter! This bright bouquet features hot pink roses, peach gerberas, hot pink carnations, green cushion spray chrysanthemums, purple cushion spray chrysanthemums, and huckleberry. Delivered in Teleflora's Mid Mod Geometric Planter. Orientation: All-Around
More Info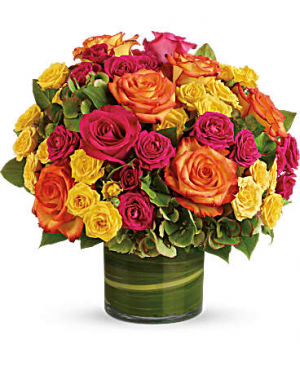 Blossoms in Vogue
High-fashion flowers for the style-minded! This modern presentation of multicolored roses and green hydrangea has a tropical feel thanks to the hot color palette and the aspidistra leaves in the vase. Bright green hydrangea and rich green salal leaves mix with hot pink, yellow, and orange bi-color roses in a clear glass cylinder that's lined with variegated aspidistra leaves. Orientation: All-Around
More Info
Hospitals and Health Care Providers in Our Delivery Area:

| Name | Address | Phone |
| --- | --- | --- |
| Coral Springs Medical Ctr | 3000 Coral Hills Dr Coral Springs, FL. 33065 | (954) 344-3000 |
| Sage Dental Of Coral Springs | 987 N University Drive Coral Springs, FL. 33071 | (877) 941-2817 |
| Sage Dental Of Parkland | 5810 Coral Ridge Drive, Suite 130 Coral Springs, FL. 33076 | (877) 941-2817 |
| Smile Design Dental | 730 Riverside Dr Coral Springs, FL. 33071 | (954) 575-9800 |
| Wisdom Dental | 9750 Nw 33rd Street, Suite 217 Coral Springs, FL. 33065 | (954) 346-0010 |
| Abiding Life Retirement | 3547 Ne 19th Ave Fort Lauderdale, FL. 33308 | (954) 566-0825 |
| Abundant Care Retirement | 201 Ne 40th Ct Fort Lauderdale, FL. 33334 | (954) 561-8668 |
| Adams Retirement Home Inc | 401 Pennsylvania Ave Fort Lauderdale, FL. 33312 | (954) 316-2535 |
| Advanced Dental Wellness Center | 104 Se 1st St Fort Lauderdale, FL. 33301 | (954) 525-5662 |
| Ambience Of Innswood | 1139 Ne 12th Ave Fort Lauderdale, FL. 33304 | (954) 522-1997 |
| Andre Retirement Manor | 5721 Nw 28th St Fort Lauderdale, FL. 33313 | (954) 485-3244 |
| Atlantic Shores Hospital | 4545 N Federal Hwy Fort Lauderdale, FL. 33308 | (954) 771-2711 |
| Bayview Retirement Home | 2625 Ne 13th Ct Fort Lauderdale, FL. 33304 | (954) 564-3100 |
| Best Retirement Ctr | 5605 Nw 27th Ct Fort Lauderdale, FL. 33313 | (954) 733-1840 |
| Briarwood Manor | 5631 Nw 28th St Fort Lauderdale, FL. 33313 | (954) 735-8989 |
| Broward General Medical Ctr | 1600 S Andrews Ave Fort Lauderdale, FL. 33316 | (954) 355-4400 |
| Broward Genral Medical Ctr | 1625 Se 3rd Ave Fort Lauderdale, FL. 33316 | (954) 355-4384 |
| Broward House | 417 Se 18th Ct Fort Lauderdale, FL. 33316 | (954) 522-4749 |
| Broward Nursing & Rehab Ctr | 1330 S Andrews Ave Fort Lauderdale, FL. 33316 | (954) 524-5587 |
| Canopy At Willowwood | 2855 W Commercial Blvd Fort Lauderdale, FL. 33309 | (954) 739-1026 |
| Choice Placement Svc | 2920 E Commercial Blvd Fort Lauderdale, FL. 33308 | (954) 492-0106 |
| Cleveland Clinic | 1825 N Corporate Lakes Blvd Fort Lauderdale, FL. 33326 | (954) 349-1111 |
| Cleveland Clinic Florida | 2866 E Oakland Park Blvd Fort Lauderdale, FL. 33306 | (954) 568-2200 |
| Cleveland Clinic Florida Hosp | 2833 N Ocean Blvd Fort Lauderdale, FL. 33308 | (954) 568-1000 |
| Colonnade Medical Ctr | 3370 Nw 47th Ter Fort Lauderdale, FL. 33319 | (954) 733-0655 |
| Colony Club In Sunrise | 3799 N Pine Island Rd Fort Lauderdale, FL. 33351 | (954) 748-0509 |
| Columbia Homecare At University Hospital And Medic | 7201 N University Dr Fort Lauderdale, FL. 33321 | (954) 724-6444 |
| Columbia University Hospital | 7201 N University Dr Fort Lauderdale, FL. 33321 | (954) 721-2200 |
| Comfort Care Retirement Home | 545 Ne 23rd St Fort Lauderdale, FL. 33305 | (954) 566-7255 |
| Courtleigh Manor Retirement | 2778 Nw 58th Ter Fort Lauderdale, FL. 33313 | (954) 484-3712 |
| Covenant Village Of Florida | 9201 W Broward Blvd Fort Lauderdale, FL. 33324 | (954) 472-2860 |
| Cypress Retirement Home | 1650 Ne 62nd St Fort Lauderdale, FL. 33334 | (954) 772-6551 |
| Davie's Country Living | 5540 Sw 64th Ave Fort Lauderdale, FL. 33314 | (954) 792-8878 |
| Deen's Retirement Home Inc | 1451 Nw 20th St Fort Lauderdale, FL. 33311 | (954) 524-2867 |
| Divinity Home Care Inc | 7450 Nw 51st St Fort Lauderdale, FL. 33319 | (954) 742-3707 |
| Dr. Yolanda Cintron, Dmd | 2021 East Commercial Boulevard, #208 Fort Lauderdale, FL. 33308 | (954) 938-4599 |
| Edwards Loving Home Care | 1454 Ne 56th St Fort Lauderdale, FL. 33334 | (954) 491-7396 |
| Emergency Care At Plantation | 401 Nw 42nd Ave Fort Lauderdale, FL. 33317 | (954) 797-6470 |
| Florida Medical Ctr | 5000 W Oakland Park Blvd Fort Lauderdale, FL. 33313 | (954) 735-6000 |
| Fort Lauderdale Hospital | 1601 E Las Olas Blvd Fort Lauderdale, FL. 33301 | (954) 463-4321 |
| Fort Lauderdale Retirement | 401 Se 12th Ct Fort Lauderdale, FL. 33316 | (954) 524-3312 |
| Gateway Terrace | 1943 Ne 6th Ct # N106 Fort Lauderdale, FL. 33304 | (954) 463-6721 |
| Gena's Retirement Home Inc | 2233 Nw 56th Ave Fort Lauderdale, FL. 33313 | (954) 733-9614 |
| God's Vi P's Senior Haven | 4681 Sw 66th Ave Fort Lauderdale, FL. 33314 | (954) 581-9111 |
| Golden Crest Retirement Home | 3091 Nw 43rd St Fort Lauderdale, FL. 33309 | (954) 739-7186 |
| Golden Rule Inc | 811 Ne 28th St Fort Lauderdale, FL. 33334 | (954) 561-8612 |
| Golden Sands Assisted Living | 809 Ne 20th Ave Fort Lauderdale, FL. 33304 | (954) 524-6054 |
| Good Hope Manor | 2251 Nw 29th Ct Fort Lauderdale, FL. 33311 | (954) 677-2900 |
| Hamilton House | 8500 W Sunrise Blvd Fort Lauderdale, FL. 33322 | (954) 476-8500 |
| Harbor Beach Convalescent Home | 1615 Miami Rd Fort Lauderdale, FL. 33316 | (954) 523-5673 |
| Heartland Health Care & Rehab | 9711 W Oakland Park Blvd Fort Lauderdale, FL. 33351 | (954) 572-4000 |
| Heartland Health Care Ctr | 2599 Nw 55th Ave Fort Lauderdale, FL. 33313 | (954) 485-8873 |
| Heartland Of Tamarac | 5901 Nw 79th Ave Fort Lauderdale, FL. 33321 | (954) 722-7001 |
| Henry's Retirement Ctr | 2137 Nw 4th St Fort Lauderdale, FL. 33311 | (954) 792-3334 |
| Hidden Palm | 2675 N Andrews Ave # A Fort Lauderdale, FL. 33311 | (954) 563-2288 |
| Holly Heights Manor | 1342 Holly Heights Dr Fort Lauderdale, FL. 33304 | (954) 763-6500 |
| Holy Cross Hospital | 4725 N Federal Hwy Fort Lauderdale, FL. 33308 | (954) 771-8000 |
| Holy Cross Hospital Mercy Mnr | 2331 Ne 53rd St Fort Lauderdale, FL. 33308 | (954) 771-0739 |
| Holy Cross Hospital: Heart & Vascular Center | 4725 N Federal Hwy Fort Lauderdale, FL. 33308 | (954) 229-7970 |
| Howells Retirement Home | 179 Nw 40th Ct Fort Lauderdale, FL. 33309 | (954) 563-3191 |
| Imperial Point Medical Ctr | 6401 N Federal Hwy Fort Lauderdale, FL. 33308 | (954) 776-8500 |
| Jenkins Harmony Home | 2640 Nw 16th Ct Fort Lauderdale, FL. 33311 | (954) 485-0891 |
| Kidney Stone Ctr-South Florida | 1625 Se 3rd Ave Fort Lauderdale, FL. 33316 | (954) 355-5150 |
| L & M Directory & Marketing | 7071 W Commercial Blvd # 2a Fort Lauderdale, FL. 33319 | (954) 721-3131 |
| Lake View Retirement Residence | 2304 Nw 52nd Ct Fort Lauderdale, FL. 33309 | (954) 714-0064 |
| Lamercie Home | 4225 Nw 25th Pl Fort Lauderdale, FL. 33313 | (954) 486-7792 |
| Lauderhill Family Care | 5821 Nw 28th St Fort Lauderdale, FL. 33313 | (954) 485-3334 |
| Leisure Living Of Inverrary | 5811 Nw 28th St Fort Lauderdale, FL. 33313 | (954) 485-8510 |
| Loch Haven Apartments | 2900 Nw 56th Ave Fort Lauderdale, FL. 33313 | (954) 486-1347 |
| Love & Care Adult Care Living | 8480 Nw 28th Pl Fort Lauderdale, FL. 33322 | (954) 572-5398 |
| Lulu's Boarding Home | 2720 Sw 6th Ct Fort Lauderdale, FL. 33312 | (954) 587-6526 |
| Manor Oaks Nursing & Rehab Ctr | 2121 E Commercial Blvd Fort Lauderdale, FL. 33308 | (954) 771-8400 |
| Manor Pines | 1701 Ne 26th St Fort Lauderdale, FL. 33305 | (954) 566-8353 |
| Mercedes Quality Care Inc | 5940 Nw 19th Ct Fort Lauderdale, FL. 33313 | (954) 714-9092 |
| Merrick Retirement Home | 1490 Nw 21st St Fort Lauderdale, FL. 33311 | (954) 523-1543 |
| Miami Childrens Hospital | 2900 S Commerce Pkwy Fort Lauderdale, FL. 33331 | (954) 385-6274 |
| Miami Jewish Home & Hospital | 3075 W Oakland Park Blvd # 211 Fort Lauderdale, FL. 33311 | (954) 739-9400 |
| Mission Manors | 460 Nw 40th Ct Fort Lauderdale, FL. 33309 | (954) 565-0022 |
| New River Retirement Home | 2271 Sw 30th Ter Fort Lauderdale, FL. 33312 | (954) 584-8640 |
| New River Villas Retirement | 412 Sw 7th Ave Fort Lauderdale, FL. 33312 | (954) 462-4445 |
| Nirvana Retirement Home | 426 Sw 4th Ave Fort Lauderdale, FL. 33315 | (954) 527-5846 |
| North Broward Hosp Health Sys | 303 Se 17th St Fort Lauderdale, FL. 33316 | (954) 355-5100 |
| North Broward Hospital District | Ste 4500 2101 W Commercial Blvd Fort Lauderdale, FL. 33309 | (954) 677-2566 |
| North Broward Hospital District: Pediatric Care | 200 Nw 7th Ave Fort Lauderdale, FL. 33311 | (954) 759-6630 |
| North Ridge Medical Ctr | 5757 N Dixie Hwy Fort Lauderdale, FL. 33334 | (954) 776-6000 |
| Nursing Concepts Inc | 7511 Nw 64th St Fort Lauderdale, FL. 33321 | (954) 721-8220 |
| Oakland Villa Retirement Home | 2131 Nw 28th St Fort Lauderdale, FL. 33311 | (954) 484-1350 |
| Oakmont Acres Retirement | 5353 Sw 40th Ave Fort Lauderdale, FL. 33314 | (954) 584-3189 |
| Oakridge Comprehensive Otptnt | 1000 Ne 56th St Fort Lauderdale, FL. 33334 | (954) 776-5263 |
| Ocean View Retirement Home | 909 Ne 17th Way Fort Lauderdale, FL. 33304 | (954) 522-1158 |
| Palm Court Nursing | 2675 N Andrews Ave Fort Lauderdale, FL. 33311 | (954) 563-5711 |
| Paradise Loving Care Inc | 4541 Nw 3rd St Fort Lauderdale, FL. 33317 | (954) 791-1793 |
| Paradise Manor | 365 Nw 43rd Ct Fort Lauderdale, FL. 33309 | (954) 565-7049 |
| Park Regency Retirement | 2801 Nw 55th Ave Fort Lauderdale, FL. 33313 | (954) 484-1960 |
| Pearl White Dentistry | 6361 N Andrews Ave Fort Lauderdale, FL. 33309 | (954) 491-8812 |
| Pinecrest Hospital | 499 Nw 70th Ave Fort Lauderdale, FL. 33317 | (954) 587-8484 |
| Plantation General Hospital | 401 Nw 42nd Ave Fort Lauderdale, FL. 33317 | (954) 587-5010 |
| Plantation Nursing & Rehab Ctr | 4250 Nw 5th St Fort Lauderdale, FL. 33317 | (954) 587-3296 |
| Pleasantview Retirement Home | 2011 Nw 59th Way Fort Lauderdale, FL. 33313 | (954) 485-3660 |
| Royal Palm Senior Residence | 5121 Ne 19th Ave Fort Lauderdale, FL. 33308 | (954) 491-4041 |
| Safe Harbour Retirement Home | 1320 Sw 26th St Fort Lauderdale, FL. 33315 | (954) 524-7233 |
| Sage Dental Of Downtown Fort Lauderdale | 551 N Federal Hwy., Suite 900 Fort Lauderdale, FL. 33301 | (877) 941-2817 |
| Sage Dental Of East Fort Lauderdale | 6171 N Federal Hwy Fort Lauderdale, FL. 33308 | (877) 941-2817 |
| Senior Advantages Of S Florida | 4800 W Commercial Blvd Fort Lauderdale, FL. 33319 | (954) 434-5115 |
| Senior Haven Of Dania | 4580 Sw 33rd Ave Fort Lauderdale, FL. 33312 | (954) 983-5157 |
| Shadowood Ii Inc | 307 Sw 5th St Fort Lauderdale, FL. 33315 | (954) 462-3719 |
| Shalom Manor Retirement Home | 2771 Nw 58th Ter Fort Lauderdale, FL. 33313 | (954) 485-0901 |
| Smile Design Dental Of Ft Lauderdale | 2740 E Commercial Blvd Fort Lauderdale, FL. 33308 | (954) 938-2447 |
| St Anthonys Rehab Hospital | 3075 Nw 35th Ave Fort Lauderdale, FL. 33311 | (954) 486-9676 |
| St John's Rehabilitation | 3075 Nw 35th Ave Fort Lauderdale, FL. 33311 | (954) 739-6233 |
| St Joseph's Residence | 3485 Nw 30th St Fort Lauderdale, FL. 33311 | (954) 739-1483 |
| St Thomas Manor Inc | 1110 S State Road 7 Fort Lauderdale, FL. 33317 | (954) 583-3321 |
| Sultan Center For Oral Facial Surgery | 4800 N Federal Hwy #201 Fort Lauderdale, FL. 33308 | (954) 771-8772 |
| Sunrise Health & Rehab Ctr | 4800 N Nob Hill Rd Fort Lauderdale, FL. 33351 | (954) 748-3400 |
| Sunrise Regional Medical Ctr | 555 Sw 148th Ave Fort Lauderdale, FL. 33325 | (954) 370-0200 |
| Sunrise Rehabilitation | 4399 N Nob Hill Rd Fort Lauderdale, FL. 33351 | (954) 749-0300 |
| Sunshine Villas Inc | 5304 Nw 16th St Fort Lauderdale, FL. 33313 | (954) 731-4863 |
| Surgery Center At Coral Sprgs | 7210 N University Dr Fort Lauderdale, FL. 33321 | (954) 341-5553 |
| Tamarac Rehabilitation & Hlth | 7901 Nw 88th Ave Fort Lauderdale, FL. 33321 | (954) 722-9330 |
| Tiffany House | 2900 Riomar St Fort Lauderdale, FL. 33304 | (954) 563-3116 |
| Towers Retirement Home | 824 Se 2nd St Fort Lauderdale, FL. 33301 | (954) 463-4973 |
| Transitional Care Unit | 1600 S Andrews Ave Fort Lauderdale, FL. 33316 | (954) 355-5908 |
| Treemont On The Park | 3861 Ne 3rd Ave Fort Lauderdale, FL. 33334 | (954) 563-0276 |
| Trinity Village Retirement Ctr | 5600 Nw 27th Ct Fort Lauderdale, FL. 33313 | (954) 733-4447 |
| Vencor Hospital | 1516 E Las Olas Blvd Fort Lauderdale, FL. 33301 | (954) 764-8900 |
| Victoria Senior Haven Alf | 4580 Sw 33rd Ave Fort Lauderdale, FL. 33312 | (954) 963-0383 |
| Victoria Villa Assisted Living | 5151 Sw 61st Ave Fort Lauderdale, FL. 33314 | (954) 791-8881 |
| Villa Rio Vista Retirement Hm | 1115 Se 6th Ter Fort Lauderdale, FL. 33316 | (954) 763-1044 |
| Village Park Mobile Home Ests | 3900 W Prospect Rd Fort Lauderdale, FL. 33309 | (954) 731-4111 |
| West Broward Care Ctr | 7751 W Broward Blvd Fort Lauderdale, FL. 33324 | (954) 473-8040 |
| Westbrooke At Inverrary | 4300 Rock Island Rd Fort Lauderdale, FL. 33319 | (954) 486-2150 |
| Westchester Assisted Living | 9701 W Oakland Park Blvd Fort Lauderdale, FL. 33351 | (954) 572-4444 |
| Westminster Manor Of First | 1224 E Las Olas Blvd Fort Lauderdale, FL. 33301 | (954) 463-0241 |
| Weston Regional Health Park | 2300 N Commerce Pkwy Fort Lauderdale, FL. 33326 | (954) 217-5000 |
| Westside Regional Medical Ctr | 8201 W Broward Blvd Fort Lauderdale, FL. 33324 | (954) 473-6600 |
| Willowwood | 2855 W Commercial Blvd Fort Lauderdale, FL. 33309 | (954) 739-4200 |
| Windsor Place Senior Citizens | 1850 Ne 26th St Fort Lauderdale, FL. 33305 | (954) 565-5858 |
| Xanadu Retirement Residence | 538 Bayshore Dr Fort Lauderdale, FL. 33304 | (954) 566-4433 |
| Agape Treatment Center | 4837 N Dixie Hwy Oakland Park, FL. 33334 | (954) 908-6404 |
| Belair At Sunrise | 3621 Nw 90th Ter Sunrise, FL. 33351 | (954) 747-7265 |
| Paradise Villas Retirement | 11360 Nw 29th St Sunrise, FL. 33323 | (954) 749-3138 |
| Richmond Health Care Inc | 4800 N Nob Hill Rd Sunrise, FL. 33351 | (954) 572-7294 |
| Springtree Rehab & Health Care | 4251 Spring Tree Dr Sunrise, FL. 33351 | (954) 572-4251 |
| Springtree Retirement Residence | 4201 Springtree Dr Sunrise, FL. 33351 | (954) 572-4261 |
| Sage Dental Of Tamarac | 5779 N University Dr. Tamarac, FL. 33321 | (877) 959-8449 |
| Sage Dental Of Weston | 2366 Weston Road Weston, FL. 33326 | (877) 959-8449 |
| The Florida Center For Functional Medicine - Westo | 17160 Royal Palm Blvd #1 Weston, FL. 33326 | (954) 895-7896 |